If you watched the end of the Villanova – North Carolina NCAA Championship game Monday night you (a) saw a classic game; (b) with 4.7 seconds left and a timeout on the floor you were treated to the sight of Villanova's 6'11'' senior, Daniel Ochefu mopping the floor just below half-court.
Ochefu took the mop from a ball boy and tended to the area where he had just dived trying to pick off a pass to Marcus Paige – he missed, Paige drained a ridiculous double-pump game tying three pointer.
The announcers joked about it, pretty much wondering aloud why he was working away on a sweat spot in a tied game with 4.7 seconds left for the National Championship.
Well, he was making sure the spot was dry because he knew that was the spot where he was going to toss the pick that would spring Ryan Arcidiacono to drive over half-court and set up the shot to win it. He was insuring that neither of them slipped.
How did he know? Villanova had practiced the game winning play – called Nova – hundreds and hundreds of times. They had planned for this precise moment for years, 4.7 seconds left was almost the optimum time for it.
There was no discussion in the huddle, no frantic whiteboard x's and o's and arrows. The Wildcat's coach, Jay Wright,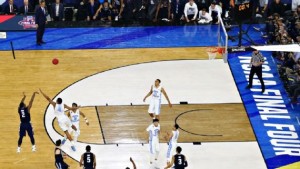 simply called Nova in his timeout, Ochefu went over to the sweat slick and did the only preparation the team needed.
Arcidiacono had several options as he dribbled, all planned back in 2002 when Jay Wright brought on an assistant coach who brought the play with him. He had made that run with 5 seconds on the clock hundreds of times in practice. Every kid on the floor with him had been through it and all its variations time after time – always at the end of practice when everyone was tired and wanted to go home – just like the end of a draining game.
According to an assistant coach quoted in the New York Times today, it had never worked in practice – the kids defending it knew it as well as the kids running it.
Well, it's an amazing example of what good planning can do and how the little things – like mopping the floor – make things work.